Long Beach Plastic Surgery Financing
Southern California Plastic Surgery Group
Patient Payment Plans:
Once you have made the decision in consultation with your physician that plastic surgery is appropriate for you, it's natural that you may have some concerns about the financial aspects. "What does breast augmentation cost?" "How much is a tummy tuck?" These are just two of the many routine questions our Southern California Plastic Surgery Group receives from our clients.
In the final analysis, however, the cost of your cosmetic surgery procedure in Beverly Hills, Long Beach, or Los Angeles, California, should never prevent you from reaching your beauty goals. To begin with, it's important to consider the intrinsic value of the plastic surgery. What is the value to you of looking and feeling your personal best?
Moreover, Dr. Hicks at the Southern California Plastic Surgery Group provides you with a choice of financing options so that any procedure you want can fit within your budget. At the Southern California Plastic Surgery Group, we offer a number of patient financing options. Below is a list of the lenders and lending programs.
When you are ready to apply, click here and select your preferred lender.
We offer no-interest payment plans (the same as cash) for up to 24 months. We also offer extended payment plans for 24, 36, 48 or 60 months with varying rates of interest depending upon your credit history.
The following overview provides more information about the lenders that we work with:
Prosper HealthCare Lending
Prosper HealthCare Lending is the premier financing company in the cosmetic surgery industry. With over $5 Billion funded and over 300,000 loan inquiries serviced through their lenders, this is a name and a program you can trust.
Here are some of the benefits you'll receive with a loan from Prosper HealthCare Lending:
Immediate decisions for loans under $35,000
Term options out to 84 months (affordable monthly payments)
No collateral required
No prepayment penalties
Fast & easy loan inquiry process
100% Confidential
CareCredit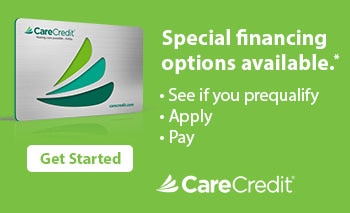 With CareCredit financing, there are no up-front costs and no pre-payment penalties.
CareCredit covers operations costs ranging from $1,000 to $25,000.
CareCredit provides No-Interest Payment Plans for 3, 6, 12, and 18 months, as well as Extended Payment Plans with interest rates starting at only 9.90%.
United Medical Credit
Thousands of patients have trusted United Medical Credit to secure affordable payment plans for their procedures. United Medical Credit can do the same for you.
Some of the benefits of choosing United Medical Credit to finance your care:
Extensive Network of Prime and Subprime Lenders
Multiple Plans to Choose From
Decisions Within Seconds
No Prepayment Penalties with Flexible Terms
Fast and Easy Application Process with No Commitment
100% Confidential
Plans available for Credit Challenged Applicants
Payment Information
Initial office visits are payable in full at the time of your visit. This may include charges for consultation, review of X-rays and any necessary dressing changes.
Once the office personnel and verified your insurance coverage, we will bill your insurance company for any follow-up visits. For this reason, we ask that you sign the Assignment of Benefits form. After your deductible has been met, most insurance companies will reimburse you for office visits, provided this is covered in your policy.
The Personal Touch
At the Southern California Plastic Surgery Group, we are committed to providing quality care. You have our assurance that we will endeavor to spend as much time with each patient as possible.
YOUR BEST YOU IS CLOSER THAN YOU THINK
With the ALPHAEON CREDIT card*, you'll find a wide array of monthly payment options to help your reach your individual goals.
The ALPHAEON CREDIT card allows you to move forward today without delay. Plus, with special financing options not available with other credit cards, you may find the ALPHAEON CREDIT card is the better way to pay.
With the ALPHAEON CREDIT card, you can receive the care your physician recommends with flexible payment options that fit your lifestyle.
Apply today so you can focus on looking, feeling, and being your best.
To learn more about cosmetic surgery financing options in Beverly Hills, Long Beach, or Los Angeles, California, contact us today